Codemasters' F1 2014 is coming out on October 17th. And fans are angry. And they're angry because…the version shown in the trailer looks like just a 2014 season update for F1 2013? They may have cut back features such as Classic Content? The next-gen version of the game isn't coming out until early 2015?
No, no, and no. Take a look at these in-game screenshots of the Williams Martini Racing FW36.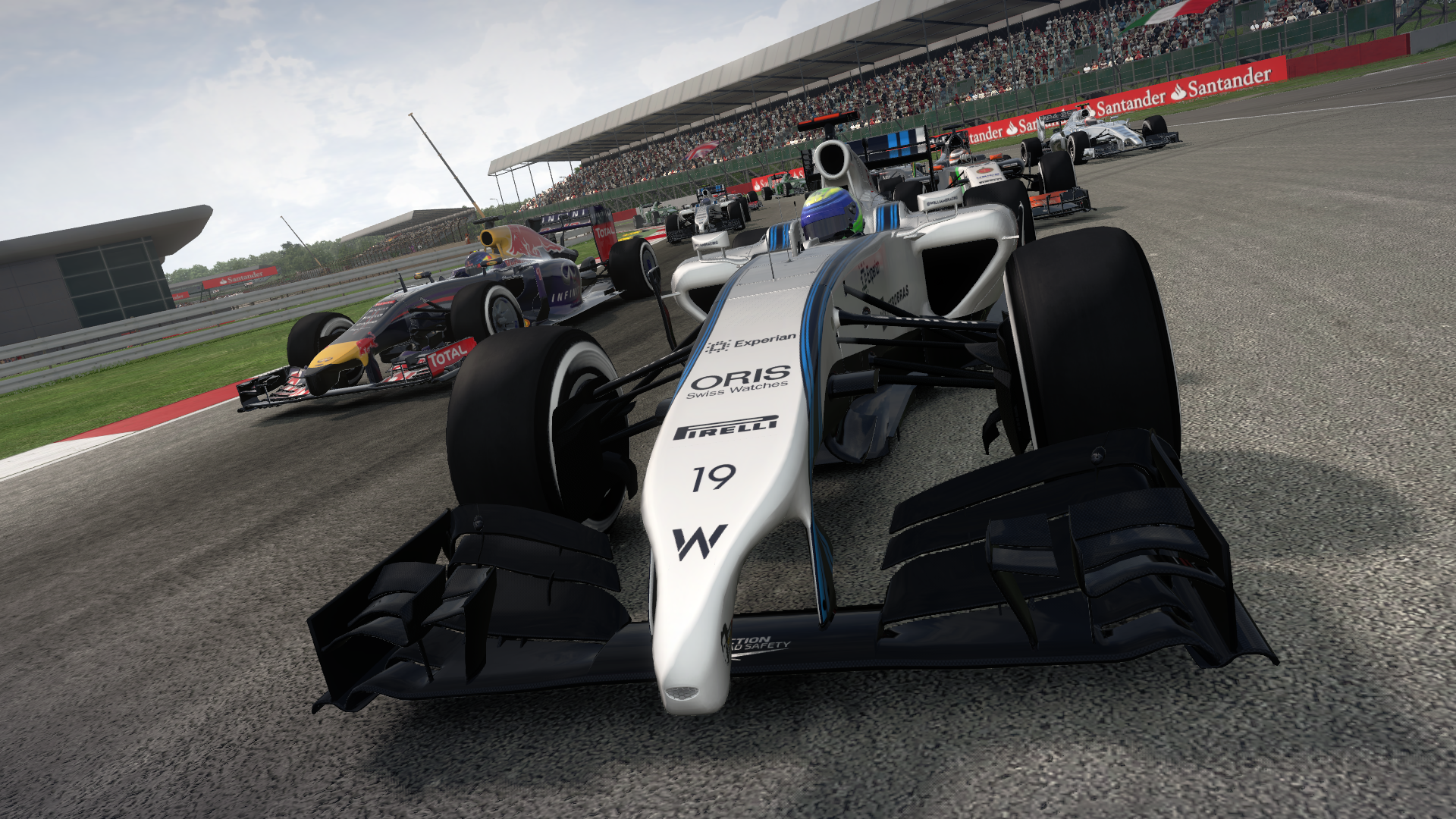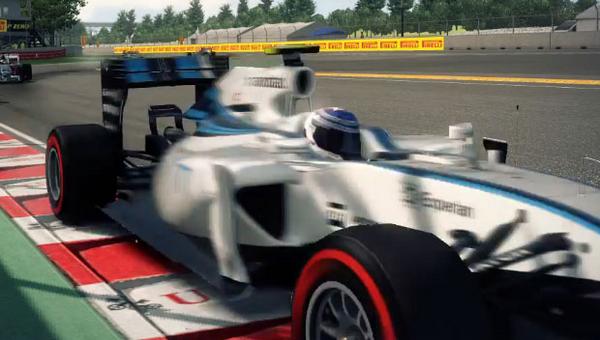 Notice anything missing? Like the logos of their primary sponsor Martini? Or even the small bits of red running down the Martini "stripes" on the rear wing and engine cover?
And when news was revealed, fans immediately took to twitter to show just how disappointed, or even how even angry they are about this horrible, despicable injustice being committed by Codemasters.
https://twitter.com/MikeGriffin__/status/494858942976380929
They've even cut Smirnoff Vodka from the livery of the Force India VJM07! And McLaren still has their pre-season livery instead of rotating through all their non-title sponsors like they do in real life – which includes Johnnie Walker, who's sponsored the team since 2006!
How dare they! Needless, politically-correct whitewashing has infiltrated Formula 1 games! Shame on Codemasters for not sticking it to the man and putting them in anyway! Who cares that the game would have to move up from a PEGI-3 classification up to a PEGI-16 (or the ESRB equivalent: Everyone 6+ up to Mature 17+) and therefore restricted the sale of the game to younger fans and shut out a good portion of their demographic!
While I acknowledge that there was the possibility of using the dry livery that ran in Bahrain, a country that prohibits the sale or advertisement of alchohol, as seen here:
And while I acknowledge that other cars in other games have been able to run similar non-alcohol liveries with the Martini red coloring kept intact, or even use the Martini Racing name explicitly, as seen in Sega Rally circa 1995:
The general feeling that I'm getting from reading the responses to upset F1 fans about the cutting of Martini, Smirnoff, and Johnnie Walker from F1 2014 is that people are outraged, they're outraged about advertising restrictions in video games that have been in place for over 20 years, and won't be changing any time soon. And I don't just mean the ban on real-life alcohol advertising in sporting events in Muslim countries like Bahrain, or in Abu Dhabi, or in that other fringe F1 market that Bernie Ecclestone keeps trying to force onto the calendar….France.
There are no Bud Light advertisements in UFC video games despite them being a major sponsor of the promotion. No Heineken ads in FIFA games despite the fact that they are prominent, offical sponsors of major competitions including the World Cup and the UEFA Champions League. Coors Light is the official beer sponsor of the National Football League, but they're not appearing in Madden NFL games any time soon. And sure, while baseball games can use the names Busch Stadium or Miller Park to describe the names of the stadiums of the St. Louis Cardinals and Milwaukee Brewers, they use the loophole that the names come not from the beer brands themselves, but from the names of the families who own them. The "just because they show Martini logos in an F1 game doesn't mean I'm going to start drinking" argument, tone-deaf enough as it is, still isn't convincing anyone to change the rules.
But let's focus on the ban on "vice sponsorships" in racing games, which have been around since the days of the Super Nintendo and Sega Mega Drive/Genesis, in the peak of the years where tobacco sponsorship money fueled most of the teams on the grid. A brief history lesson, if you will.
The only known officially licensed F1 game to feature alcohol advertising in the form of trackside signage was Grand Prix 2 for the PC. PC games were not always subject to classification from the ESRB, even two years after it was founded – the game came out in 1996, two years after the 1994 season it portrays. And PEGI didn't even exist at the time. This is not a texture mod, this is how Circuit Gilles Villeneuve looked in the original GP2:
And even then – with all the Molson Dry and Miller beer and Campari hard liquor signposts around the Circuit Gilles Villeneuve, they still had to run the non-tobacco liveries for every team in the game. The real-life F1 photos in the game menus were all taken from the British, French, and German Grands Prix, where there were no tobacco or alcohol sponsorships allowed on the cars. On console games, Miller, Molson, Campari, and later Foster's, weren't allowed to be portrayed, along with the long-standing tobacco bans, or else games like Formula 1 '97 would lose their Kids to Adults rating.
Slight tangent, but I personally loved the clever, non-tobacco renditions of famous tobacco-liveried cars, and this coming from someone who believes that the sport is better without their money and thinks the fans who want it back are stuck in the stone age. Buzzin' Hornets, Look Alike, GO!!!!!!!, the first names of McLaren's drivers, the barcode replacing Marlboro – they had their own charm to them. And they were all made out of necessity too, in the years where tobacco-liveried cars were banned in certain countries, but before the EU-wide ban in 2005 essentially forced everyone but Marlboro to leave. And Marlboro's $100M sponsorship is so subtle these days, that I can't even notice them on their current livery.
No alcohol company held a major sponsorship of an F1 team during the years where tobacco was the main vice sponsor in F1, even still, beverages like Bitburger, who sponsored Benetton, Veltins and Budweiser, who sponsored Williams, Beck's, who sponsored Jaguar, and Whyte & Mackay, former hard liquor partner of Force India, were all cut from video games. Johnnie Walker hasn't featured on a McLaren F1 video game car in the eight years of their partnership dating back to 2006.
In America, the ban on vice sponsorships is as restrictive, in some cases even more so.
Notice anything missing on this late-1990s Penske Champ Car featured in the 1997 game CART World Series? Not just the Marlboro brand name being replaced by the Penske logo, but also the red Marlboro chevrons – still allowed in F1 games when McLaren were sponsored by them – they had to go too. They were also gone in CART Flag to Flag, released just two years later on the Sega Dreamcast:
And even when Penske defected to the IndyCar Series in 2002, when Codemasters published the officially licensed titles for them in the mid-2000s, and even though the Marlboro brand name was replaced, in real life, by the words "Team Penske" on the cars driven by Helio Castroneves and Sam Hornish Jr., they still had to alter the livery to where it bears no resemblance to the car it's supposed to be:
In NASCAR games, any visual mentions of the "Winston Cup" were banned. In-game, signs were changed to "NASCAR Racing Cup Series" or just "NASCAR Cup Series". The Winston Cup Series patches on the drivers overalls were censored. When it came to alcohol and smokeless tobacco sponsors of cars, they were changed to either the logo of the team, or the name of the driver in a similarly-styled typeface. So Budweiser became "Dale Jr.", and Miller Lite became "Rusty Wallace", and the famous Skoal Bandit became the "Ken Schrader" car.
But when hard liquor entered the game in 2005 via Jack Daniel's and Crown Royal (both now out of NASCAR), video games could not censor those brands on the cars, they had to be omitted outright. Jamie McMurray's #26, and later Matt Kenseth's #17 could still be featured because Roush Racing had associate sponsors to replace Crown Royal. But Richard Childress' #07 Chevrolet, first driven by Dave Blaney, and later Clint Bowyer, were cut from both NASCAR 06 and NASCAR 07 because they had no other major sponsors to run. The "07" number on the car was pretty much an implied advertisement for "Old No. 7" since it was the same typeface, so when Bowyer finally made his in-game debut in NASCAR 08, this time running the associate sponsorship of DirecTV, EA Sports were forced to change the typeface of his car's number to a more generic #07. This screenshot is from a video recorded on a camcorder, but still demonstrates the idea:
And nowadays, the restrictions may be even tighter than they once were. Here's what Brad Keselowski's Miller Lite Ford looks like in the most recent official NASCAR game by Eutechnyx:
In years past, the Miller Lite logos were changed to the driver's name in a style that bore a resemblance to the circular "Lite" logo. Eutechnyx's fix was to just put the car's nickname, the "Blue Deuce", on the hood and sides. And not even in a similar typeface either. They appear to have done this in something similar to Impact font. One of my friends on Twitter saw this and thought it was a mock-up of Bud Light. Whether it's a tightening of the restrictions or sheer laziness is unknown. Their secondary sponsor is also an alcoholic drink, named for the inventor of hard apple cider back in the 17th century – Redd Zappalaea.
Wait, no, that's "Redd's Apple Ale." Sorry.
Also, look carefully, and notice the generic "Pole Award" sticker in place of the Coors Light Pole Award sticker, bearing a closer resemblance to the "21 Means 21" sticker that they have to place on cars driven by those under the legal drinking age.
And we haven't even gotten to the series without official video games as of mid-2014. What would the developers of an IndyCar Series game have to do with Ed Carpenter's sponsorship from Fuzzy's Premium Vodka, who also sponsor the Fuzzy's Triple Crown of 500-mile oval races? What would they have to do if they got the license to make a Tudor United SportsCar Championship game which would surely have to include the Extreme Speed prototype sponsored by Tequila Patron, who also sponsor the North American Endurance Cup sub-championship?
Even today, iRacing can get away with having alcohol companies' billboards on trackside only because they're not classified as a "game", but as an "online service" and therefore are not subject to classification by a ratings board. Assetto Corsa isn't classified either, and Kunos Simulazioni could have kept the John Player Special signage on the recently-released Lotus 98T intact, but erred on the side of caution anyway and released it with a non-tobacco livery:
And besides, the PC modding community for the Codemasters F1 series will have the authentic Martini livery available to download into the game before you can finish downloading it off of Steam, just as they did to re-install all the vice sponsors back into racing sims past and present through skins and mods for titles like Assetto Corsa all the way back to Grand Prix 2. Codemasters could even charge a couple quid for a "Martini Skin Pack" DLC, circumvent the ratings systems, and I guarantee it would sell like crazy even amongst avid opponents of premium DLC.
Let's not get too riled up over something that, in the grand scheme of things, doesn't matter too much. A game with poor AI, physics, multiplayer, and depth will be a much more glaring eyesore to most F1 fans than the lack of Martini red on Valtteri Bottas's FW36, in the grand scheme of things.